What is Eikyu-fumestu Point?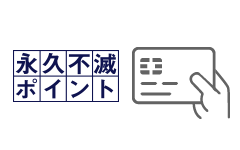 Eikyufumetsu Point Payment is a payment service that allows you to use the "Eikyufumetsu Points" of Saison / UC Card for payments such as online games and online shopping. It can be used in combination with credit card payment, so you can use it with confidence even if your balance is insufficient.
* "Permanent immortal points" are credit card points for Saison / UC card members that earn 1 point for every 1,000 yen spent on shopping, and can be earned forever without an expiration date.
* Customers can use it for payment by exchanging permanent immortal points for "permanent immortal wallet" points in advance.
Features
Expected to have a guiding effect on cardholders
By introducing "Eikyu-fumestu Point", you can expect the effect of attracting customers to Saison / UC card members.
Point service that is easy to accumulate at "Eikyufumetsu.com"
At "Eikyufumetsu.com", a site for Eikyufumetsu points members operated by Credit Saison Co., Ltd., you can collect points other than using a credit card, such as questionnaires, requesting materials, and searching the web.
Eikyu-fumestu Point mechanism
I will describe the flow of Eikyu-fumestu Point.
Functions provided
Connection methods

Link type

API type

○
-

Billing methods

Pay-as-you-go

Recurring (simple)

Recurring (fixed / metered)

○
-
-

Available websites
PC
Smartphone
Mobile phone
○
-
○
Implementation method
For the procedure from application to start of use, please see About introduction.
We will estimate the usage fee (fee, etc.) after asking for details.