ATTACK BLOCKING KUN is a web security service that realizes "easy, cheap, and high security". "Server security type" that supports all servers such as cloud (IaaS), "WEB security type" that does not require a dedicated engineer and does not need to stop the server at the time of introduction, "DDoS security type" that also supports DDoS attacks We have a lineup.
Recognized by many cloud vendors, the service is available from the next business day at the earliest. We will provide prompt and comprehensive support for installation and operation with our own support.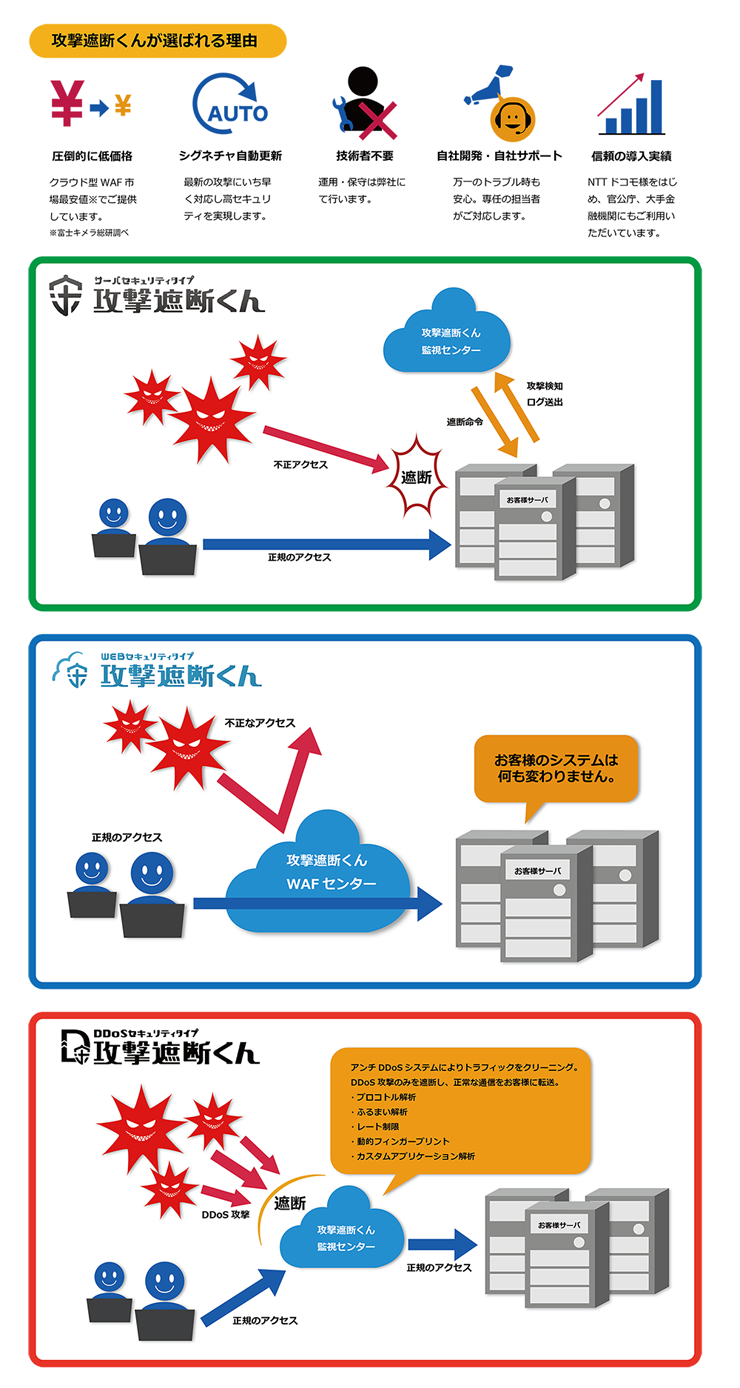 [Server security type]
The server installation type IPS + WAF server security type has a server load of 1% or less even during attack detection / blocking. There is almost no impact on server and service performance due to the introduction. Security measures can be taken from the next business day at the earliest.
[WEB security type]
It is possible to introduce a WAF in a short period of time simply by switching the DNS without changing the customer's system. Since all signature updates and operations are handled by "ATTACK BLOCKING KUN", no troublesome operation work is required. We also offer a pay-as-you-go plan for customers who operate multiple websites.
[DDoS security type]
In addition to the SaaS type WAF that blocks various attacks on the website, it has an anti-DDoS system that analyzes with any logic. This type is recommended for those who want to take measures against DDoS attacks in addition to the normal WAF function.

<Provision of management screen>
We provide a management screen for each customer's corporate account.
You can grasp the current status of attacks in real time 24 hours a day, 365 days a year.
* Excluding WEB security type / DDoS security type / 1FQDN plan
It is possible to take security measures without taking time and effort in operation.
It is used by many companies regardless of the type of business.