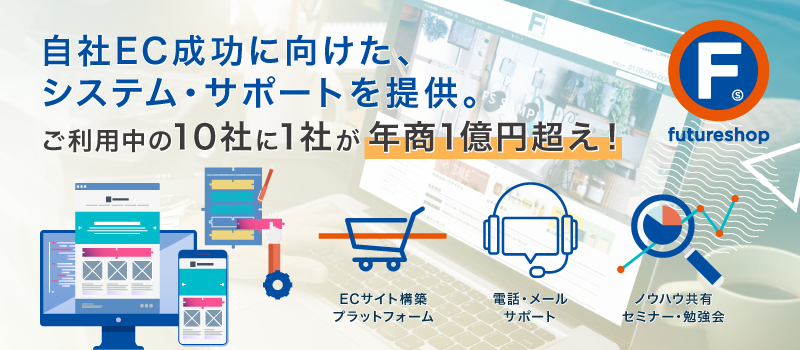 futureshop is a SaaS type EC site construction platform provided by Future Shop Co.,Ltd., Ltd.
It is also being used by start-up merchants that have achieved annual sales of merchants with their own EC alone.
Flow of applying for futureshop option for future merchants


You can realize what you wanted to do on your own EC site!
We have a wealth of support such as telephone, email, study sessions, and manuals, as well as the functions required for our own EC.
Branding realization function that conveys the goodness of products and brands on the site
Functions for increasing the conversion rate that lead to the completion of shopping
Function to promote repeat purchases and member fanning to strengthen ties with customers
With the release of the CMS function "commerce creator", the degree of freedom in page layout and page update method have been dramatically improved.
From e-commerce pros to start-ups, here's what you need to tell a story of success.



We are particular about the extensibility of functions.
The futureshop shop is often used by shops who know how to sell in their own EC.
The shop is researching various methods to improve sales and is particular about the function to realize the idea.
The future shop's functions, which have been refined from daily voices such as "Can you do this?" From the shop, will lead to the success of your e-futureshop site.


Support for mastering functions and EC know-how sharing seminars are also substantial.
If you are worried about "I want to achieve this kind of thing on my own EC site, but how can I achieve it?", Please contact the future futureshop first.
We also hold regular service briefings and seminars for those who set up their own EC.



▼ futureshop Inquiry / Application Flow
Information on futureshop options for future merchants
Flow of applying for futureshop option for future merchants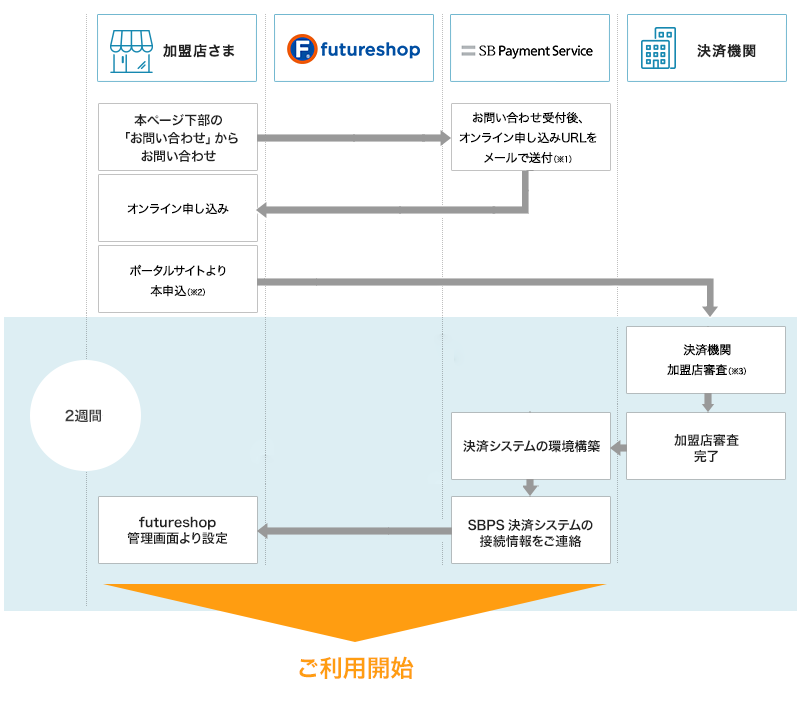 SB Payment Service Corp. (SBPS) will handle the procedures associated with the introduction of credit card payment.
It takes 2 weeks from the contract with SBPS to the provision of the online payment system.

* 1: In any of the following cases, online application will be skipped and the portal site account will be shown.
1. When applying for d payment (carrier payment)
2. When an existing SBPS merchant wants to add a payment method
3. At the time of other individual adjustment
* 2: After completing the online application, we will send you the account password of the portal site by e-mail.
In addition, before the site is released, please upload the "Site Overview Material" to the portal site.
* 3: SBPS may contact you depending on the status of the member store examination.
* 4: The offer will be reviewed by each settlement institution.