GungHo Online Entertainment Co., Ltd. is a comprehensive entertainment company that provides community services such as diary, avatar, and chat, including the online RPG "Ragnarok Online", which boasts the largest number of members in Japan.

We have developed payments that members of the online amusement park "GungHo Games" operated by GungHo Online Entertainment Co., Ltd. can use with peace of mind, and various payment methods such as credit cards, e-commerce, prepaid cards, and Edy. Is provided.
Services provided
Payment methods
It is a payment methods that allows you to pay the purchase price of the product together with the mobile phone charge.
It is a popular payment method for mobile phone users because it is possible to introduce payment methods for three carriers at once and the payment operation is easy.
Providing a variety of payment schemes with a single interface
"GungHo Games" assigns "GungHo ID" to users of online games and contents to manage billing, and currently * currently issues about 3 million GungHo IDs.

In order to purchase paid online games and items used in online games, it is necessary to purchase the virtual currency "Ganho Coin" in advance, but SB Payment Service has multiple credit cards, prepaid cards, electronic money, etc. We payment methods multiple payment methods methods as a method of purchasing "Ganho Coin".

The advantage of SB Payment Service is that it can provide the same multiple payments as a one-stop shop.
If you click "Purchase GungHo Coin", it will be taken over by the payment system of SB Payment Service, and the menu required for the payment methods selected by the user such as credit card and electronic money will be displayed.
A menu that provides a variety of payments with a single interface is indispensable for activating pay sites that attract a large number of users.

Even for the needs of GungHo Online Entertainment Co., Ltd., "Of course, we want to increase the number of new payments", we can easily add payment methods just by adding settings, and each time we add a system. No need to change or reconnect.
We have received high praise for the fact that it is possible to support various options while maintaining the convenience of connection, such as card number storage and continuous billing support, while maintaining a single interface.
[Note] As of December 2008
The important factor is ensuring safety. Credit card payment is "3-D Secure"
In addition to user convenience and service scalability, security is the number one factor. In order to improve security, "3-D Secure" that strengthens personal authentication with a password is essential for credit card payments.
For SB Payment Service, we proposed a system that completely separates data from GungHo Online Entertainment Co., Ltd. 's center without leaving any data, and SB Payment Service was judged to be safe.

The handling of credit card numbers was also one of the deciding factors when choosing the SB Payment Service.
SB Payment Service has an option to store the entire card number called "Card Information Storage Service", and GungHo Online Entertainment Co., Ltd. has been entrusted with the management of card numbers consistently since 2006 when it adopted virtual currency. I have been.
SB Payment Service is one of the first in Japan to comply with the international standard "PCI DSS" for credit card information protection as well as "ISMS (Information Security Management System)", and strives for safe and secure management and operation.

In addition, when a large number of users access all day long, such as "GungHo Games", system stability and processing performance are also important selection points, but SB Payment Service system redundancy and Yahoo! etc. We believe that the transaction processing performance, which is one of the best in Japan and used by major portals, has been highly evaluated.
Stable operation due to close cooperation. With a view to improving the level of the entire industry
Ensuring safety and stable operation are partly due to collaborative work.
In addition to system-side measures such as detection of unauthorized access, for events that require human judgment at the end, we will work closely with GungHo Online Entertainment Co., Ltd. to avoid unauthorized use and obstacles. I have been trying hard.

"We hope that our efforts will be a catalyst for strengthening the security of the entire industry.
In the card industry, information on unauthorized access is disseminated to maintain overall security.
In the same way, I think that the method of stopping access that we saw as fraudulent can be utilized not only in the game industry but also in other business formats.
Information sharing is important.
We will also make efforts to foster healthy game users and content. "(Mr. Naoki Aoyama, Deputy General Manager, First System Operations Department, Customer Service Division, GungHo Online Entertainment Online Division)

Ensuring security does not end with the introduction of security technology.
It is maintained by continuous strengthening and stacking, and the comfort and safety of online amusement parks is based on this attitude.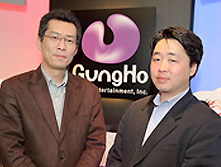 GungHo Online Entertainment Mr. Aoyama (left)
Hongo (right), General Manager of Our Service Division
Customer profile
| | |
| --- | --- |
| company name | GungHo Online Entertainment Co., Ltd. |
| Site name | Online amusement park GungHo Games |
| URL | http://www.gungho.jp/ |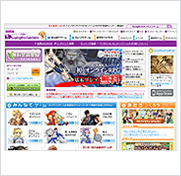 Recommended Content by SB Payment Service
Many merchants are considering introducing Credit Card Payment, and there is a wide range of information that we would like to introduce. From among them, we judge the current affairs and importance, and introduce some of them. Please have a look.