Introducing company information
TV TOKYO Shopping operated by TV TOKYO Direct has a lineup of products introduced in the daily life information programs and TV shopping "Nanairo Hiyori!" And "Mono Star" that are being broadcast on TV TOKYO and BS Japan.
You can order by phone or via the internet / smartphone app.
Payment Services
We asked TV TOKYO Direct. Inc, Ltd., who introduced the "Tokenization service(MOTO)" as a measure to de Non-retention of credit card information about the background of the introduction.
TV TOKYO Direct. Inc: Interview support
Eiji Furuya (General Manager, System Marketing Department)
Takashi Omori (System Marketing Department and General Affairs and Accounting Department)
Mr. Yuya Otsuru (Business Promotion Department, System Marketing Department)
* As of August 2018
Please tell us the background to your consideration of the payment service.
Considering non-holding of telephone orders due to amendment of installment sales law
Evaluate the fact that operator operation changes and system linkage load are small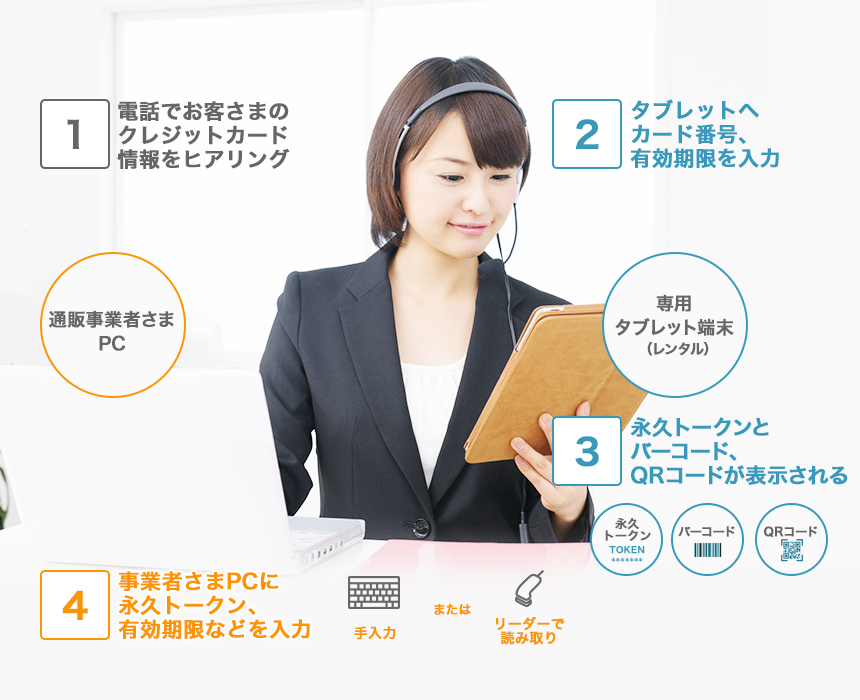 With the revision of the installment sales law in June 2018, it became necessary to take measures to Non-retention of credit card information. TV TOKYO Direct. Inc, Ltd. (hereinafter referred to as "our company") was aware that it does not hold credit card information, but when receiving a telephone order at a call center, the credit card information is entered into its own ordering system, and this part is credit. Since it corresponds to the "passing" of card information, it is necessary to take measures to prevent it from being retained. As a non-retention measure, we considered multiple services, but due to the characteristics of customers using our services, it was difficult to select the service. Among them, we started to consider a non-holding service using a tablet. The most important points were "how quickly and stress-free call center operators can handle" and "whether they can respond to customers without problems". With the "Tokenization service(MOTO)" of SB Payment Service (hereinafter "SBPS"), I felt that the talk script with the customer could be processed as it was, and the operator's operation could be processed without much time loss. Proposal from SBPS From the initial stage, I thought "this is possible" and talked about it within our company. SBPS's "Tokenization service(MOTO)" was superior to other companies' non-holding services because other services had to link the information entered on the input terminal with the mail-order system in some way. However, the "Tokenization service(MOTO)" does not have a heavy load of system linkage, and it is only necessary to read the dedicated barcode or QR code for the "permanent token" that is a token of the credit card number. We evaluated the points that have been devised in various ways and decided to introduce them.
How was the introduction period and introduction support?
Be aware of when to decide on a solution to comply with the revised law
Achieve smooth introduction while linking the latest information on a daily basis
2018年6月1日に改正割賦販売法の施行が決まっていたので、弊社としては施行日までに遵守する必要があると考え、施行日から逆算して2017年12月頃に非保持化対策のソリューションを決める必要があると考えていました。2017年12月くらいから各社より非保持化ソリューションの提案を色々いただいているなか、SBPSの「永久トークン非保持化サービス」よりも良いソリューションは今後おそらく出ないだろうという読みもありまして、2017年12月の段階でSBPSにお願いすることを決めました。
「永久トークン非保持化サービス」は、提供を開始したばかりのサービスで、弊社と並行してSBPS側でも開発をしながら導入を進めていましたが、SBPS営業担当さんをハブとして日々最新の情報を連携してもらいながら進めていましたので、ストレスなく導入することができました。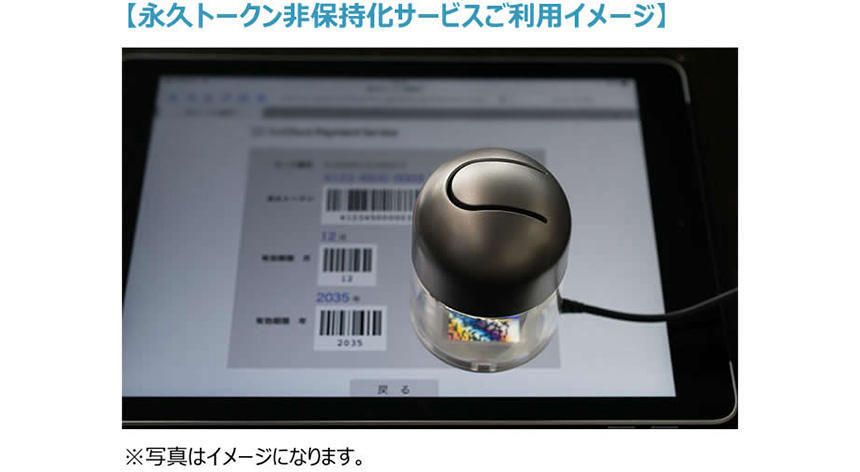 There was only one request, and the "Tokenization service(MOTO)" reads "permanent tokens" with barcodes and QR codes, but I was glad if the reader of the reading could also suggest it. In order not to reduce the efficiency of the operator, we needed to find a reader that does not have to read quickly or hassle, so we ordered and verified multiple readers. As a result, the reader provided by A Limited company Aand-toef Corporation has high reading accuracy, and we evaluate it. I would be grateful if you could propose a "Tokenization service(MOTO)" and a leader as a set.
* Currently, it is possible to propose leaders provided by A Limited company Aand-toef Corporation. Please see here for details.
Please tell us about after the introduction.
Achieve order processing in a shorter time than expected without resistance to tablet input
It was necessary for the operator to summarize the business flow when actually processing orders using the tablet, but what was previously inputting credit card information with the numeric keypad of the PC will only change to the flow of inputting to the tablet. Therefore, we were able to introduce it without significantly changing the existing basic flow. I thought that the operators were reluctant to enter the credit card information on the tablet, but many operators were not reluctant to operate the tablet, so at first I was amused. The operators were less confused than we were worried about. "Tokenization service(MOTO) When we introduced, we had to ask the customer for credit card information, then put the phone on hold, then enter the credit card information on the tablet and check it by visual inspection. It is allowed to operate while listening. Currently, about 60 to 70% are operated while listening on the phone. Regarding the response time, it was assumed that it would be about 1 minute longer than before because the step to read with the QR code is added, but in reality it can be handled in about 30 seconds, which is half of that, so this time `` Tokenization service(MOTO) I think the introduction was successful.
One tablet was prepared for each call center seat. All seats at the same time Credit Card Payment I will not do this, but I will prepare a tablet that I am not using as a spare. When the tablet installed in the operator's seat cannot be used immediately, such as when the session time is exceeded, we ask the operator to raise his hand and bring a spare tablet to the operator. In order not to keep customers waiting, we have introduced a number of units with a margin while considering spares.
 

Are there any payment functions or services you expect in the future?
Expectations for proposals for payment services tailored to the customer base
As the next step, we would like to strengthen the payment part in cooperation with SBPS, such as using "permanent tokens" to make payments for the second and subsequent purchases without asking for credit card information. In addition, as various payment services become widespread, we would like to introduce a convenient and optimal payment service for the elderly, so we would like to ask you to continue to provide the latest information. I am.