What is the account transfer service?
The account transfer service is a payment method through which users pay via bank account.
Since usage fees are automatically deducted from customers' accounts on the due date each month, the service reduces risk for merchants in managing uncollected payments due to forgotten or late payments and improves efficiency in collecting payments. In addition, customers who do not have a credit card or who are reluctant to use credit cards on e-commerce sites can avail of this service with peace of mind, leading to new customer acquisition.
Features
Benefits to customers
Customers don't have to go to the bank or a convenience store to pay.
Thanks to automatic withdrawals, there is no need to worry about forgetting to pay, paying late, or incorrect billing amounts.
Customers without a credit card can use the service with peace of mind.
Since charges are automatically deducted, there are no fees for depositing payments.
Benefits to businesses
We have highlighted 4 major aspects of the service below. Please feel free to contact us about the operational flow or any other questions you may have.
Increased Retention Rates

There is less hassle for users as charges are made continuously without them needing to be conscious of having to pay, reducing cancellations and leading to higher retention rates.

Reduced Risk on Non-Payment

Charges are automatically deducted from users' accounts when the due date arrives, reducing the risk of delayed or unpaid charges.

Support for Pay-As-You-Go Billing

Pay-as-you-go billing where payment amounts vary is also supported. This can be done by linking billing data that is based on users' usage or purchase records.

Supports Most Bank Accounts

Withdrawals from almost all bank accounts are supported, including Japan Post Bank and online banks, as well as commercial and regional banks nationwide.
Recommended for these industries
Account transfers are used by customers across a wide range of services. For example, this service is extremely convenient for things such as utility bills that people pay over and over again at convenience stores, or for real estate transactions that require fixed monthly payments.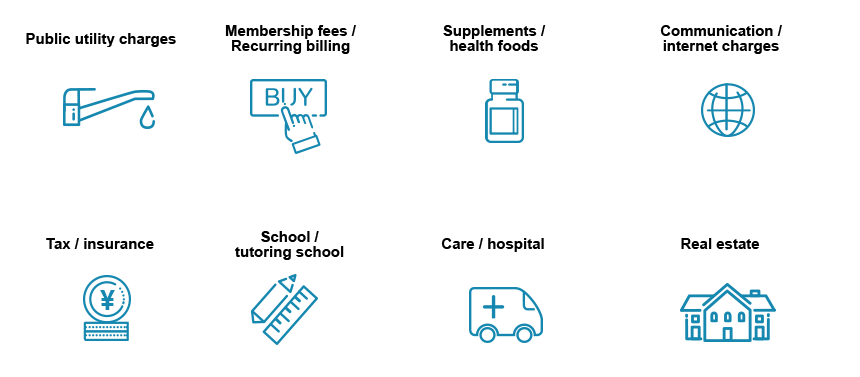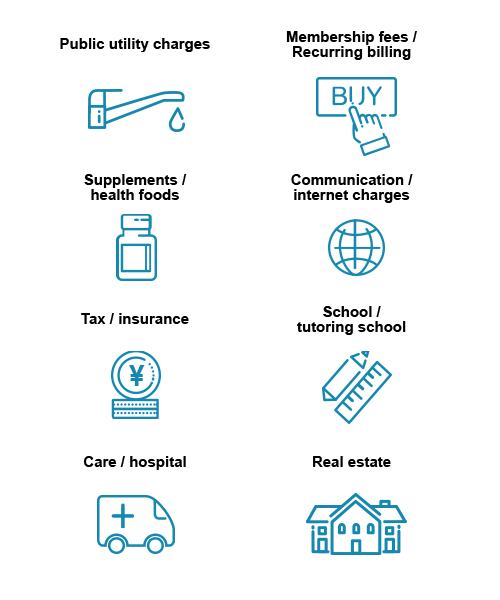 Account transfer service mechanisms and flow
With the account transfer service, usage fees are deducted from users' designated bank accounts.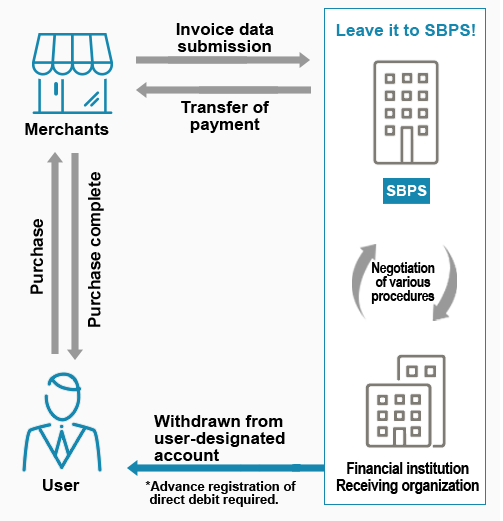 Registering for the account transfer service
We offer 2 types of registration: online and paper-based.
Merchants can implement these registration methods based on your needs.
[Online Registration]

This highly convenient service allows user to complete the registration online and does not require filling out any paper forms. As a paperless method that is done online, it saves merchants time and effort in managing registrations.

[Paper-Based Registration]

Paper-based registration is recommended for customers who are not comfortable with online procedures. Registration can be done by filling in the required information on a special form and affixing the customer's stamp.
For details on online registration, please see the Account Transfer Service (Online Registration) Usage Example page.
Implementation method
The procedures from application to getting started are as follow.
For details on implementation procedures and costs, please see Implementation and fees​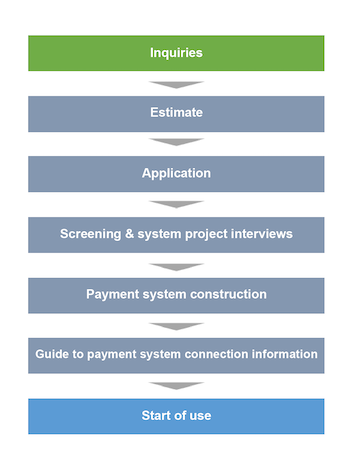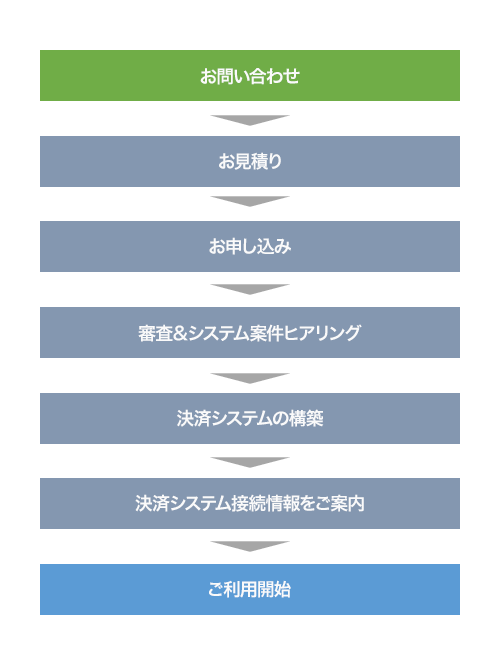 We will also provide you with a usage cost estimate (fee, etc.) upon gathering your details, so please submit an inquiry through the button below.
Functions provided
*An API for uploading / downloading files.
*Please also see our connection method overview and procedures.
For Engineers (Connection Methods)
[Note]
Refunds are not supported.
List of supported bank accounts
The following bank accounts are supported. (As of December 2016)
Recommended Content by SB Payment Service
The pages below include questions frequently asked by customers who are using our account transfer service.Feel free to visit them for details on connection methods and costs, uses, and more for both current clients and those considering our services.