What is au PAY (online payment)?
au PAY (online payment) is an Online Payment Service provided by KDDI. au PAY (online payment) users can select various charging methods such as payment from Ponta points, banks, credit cards, ATMs, convenience stores, cash charges, etc. on the au PAY app, and they are charged in advance. You can easily use online payment from your au PAY balance.
Features of au PAY (online payment)

Earn and use Ponta points
Ponta points will be awarded by using au PAY (online payment). It is also a great Online Payment Service that allows you to charge the accumulated points to your au PAY balance and use it for shopping.

Increase the number of customers with a great campaign
By offering various campaigns and discount coupons to au PAY users, customers can shop more profitably. In addition, we can expect to attract customers and repeat purchases to EC sites by hooking the Ponta economic zone with a membership base of over 100 million people.
Flow from purchase of au PAY (online payment) to payment

au PAY (online payment) provision function
Connection methods

Link type

API type

○
◯

Billing methods

Pay-as-you-go

Recurring (simple)

Recurring (fixed / metered)

○
-
-
Settlement methods

Automatic

Specified

○
○

Available websites
PC
Smartphone
Mobile phone
○
○
-
Amount that can be settled with au PAY (online payment)
| Payment method | Per time | Per day |
| --- | --- | --- |
| au PAY balance | 300,000 yen | 500,000 yen |
Implementation method
The procedures from application to getting started are as follow.
For details on implementation procedures and costs, please see Implementation and fees​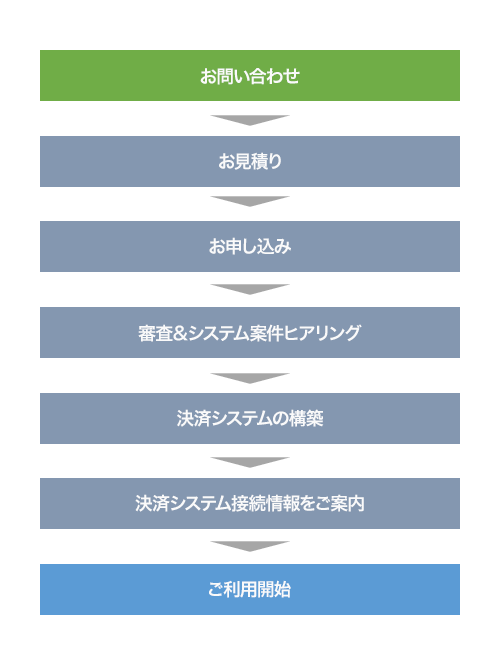 We will also provide you with a usage cost estimate (fee, etc.) upon gathering your details, so please submit an inquiry through the button below.
Recommended Content by SB Payment Service
Introducing content related to au Pay (online payment). Please feel free to take a look at various payment methods such as Credit Card Payment and Mobile Carrier Billing.