What is Merpay?

Merpay is a smartphone payment made by Japan's largest flea market app "Mercari".
Customers can easily make payments at Merpay merchants using the proceeds from Mercari and the balance charged from their bank accounts.
Features
Mercari users used by 1 in 10 customers
The number of monthly users of the flea market app "Mercari" is approximately 18.02 million *.
By introducing Mercari Net Payment, we can expect the effect of attracting customers who want to use the sales proceeds of Mercari.
* From the full-year financial results of the JP version Mercari business (FY2021.6)
Prevents baskets from dropping with a smooth payment experience
If you select Merpay when making a payment on the EC site, the payment will be completed on the Mercari app and you can make the payment without hassle.
In addition, since it is not necessary to enter information such as a credit card number, payment can be easily completed even on a smartphone or in the free time, preventing the basket from dropping.
Supports post-payment with merpay smart payment
merpay smart payment is a service that allows you to pay the payment amount on the EC site in a lump sum in the next month.
Since you can choose the payment method according to your needs, you can reduce the loss of sales opportunities and expect an increase in sales.
Mechanism of Merpay
Customers can use the Mercari balance to make payments on the EC site simply by selecting Merpay as the payment method and logging in.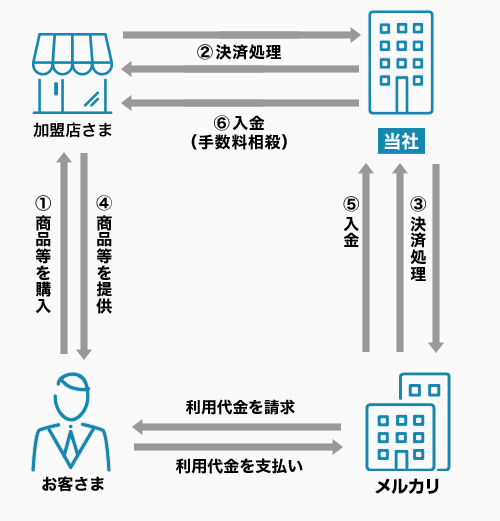 Merpay provision function
Connection methods

Link type

API type

○
-

Billing methods

Pay-as-you-go

Recurring (simple)

Recurring (fixed / metered)

○
-
-
Settlement methods

Automatic

Specified

○
○

Available websites
PC
Smartphone
Mobile phone
○
○
-
*Confirming sales, payment notifications, cancellations, refunds, and other post-purchase processing can be used with the API type.
Implementation method
For the procedure from application to start of use, please see About introduction.
We will estimate the usage fee (fee, etc.) after asking for details.
Recommended Content by SB Payment Service
Introducing content related to RakutenPay(Online). Please feel free to take a look at various payment methods such as Credit Card Payment and Mobile Carrier Billing.