About LIQUID eKYC
"LIQUID eKYC" is a service that completes online identity verification necessary for online contracts, account registration, account opening, etc. We provide a method that takes a picture of an identification document such as a driver's license or My Number card, reads an IC chip, and compares it with a self-portrait of the face, and a method that utilizes public personal authentication.
main point
Low withdrawal rate at the time of identity verification
The lowest withdrawal rate of 2.0% is achieved with an intuitive and easy-to-understand UI and detailed error messages using AI technology. It contributes to the conversion rate improvement.
Equipped with an AI screening function that automates the only personal identification process in Japan
Automate identity verification tasks by automatically matching application information with identity verification documents, checking the expiration date of identity verification documents, and masking personal information requiring special care. (Patent application 2022-084589)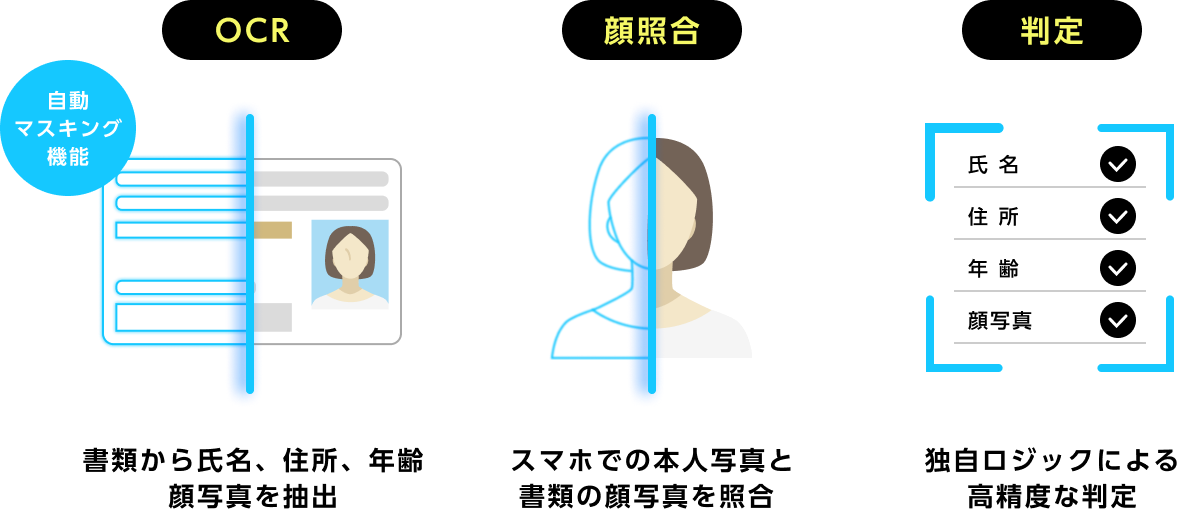 Specialized team researches and develops image processing technology
Established an R&D team to conduct research on core image processing technology. We are working every day to improve the ability to detect face forgery and to improve the quality judgment accuracy of captured images. A patent application has been filed for an authenticity technology that determines whether an image taken by an end user is not a fake photo, but a real person. (Patent application 2020-173696)
Achieves the highest level of facial recognition accuracy of approximately 99.3%
Images taken with smartphones are said to have poor image quality and are difficult to judge by image processing or AI. FAR [False Acceptance Rate]: 1/100,000 or less). By keeping the NG rate of identity verification low, the withdrawal rate of end users can also be suppressed.
It also prevents spoofing by third parties (use of photos or facial images on the display) through AI presence judgment.