What is "MAIDO POS"?
"MAIDO POS" is a tablet-type POS cash register system that is specially designed for restaurants and supports reduced tax rates.

With "MAIDO POS", from expansion of handy terminals and table order terminals to various cashless payments such as credit cards, electronic money, and code payments.
Since it is equipped with all-in-one functions required for restaurants, you can achieve maximum efficiency from ordering work to accounting work.

In addition, the restaurant counting management cloud "MAIDO SYSTEM" is equipped as standard, and you can manage attendance management, pay slips, daily reports, cash accounts, purchase costs, inventory, recipes, and reservation management all at once.
High cost-effectiveness can be achieved because centralized management from front desk work to back office work is possible in the cloud. You can try it for free for up to 2 months.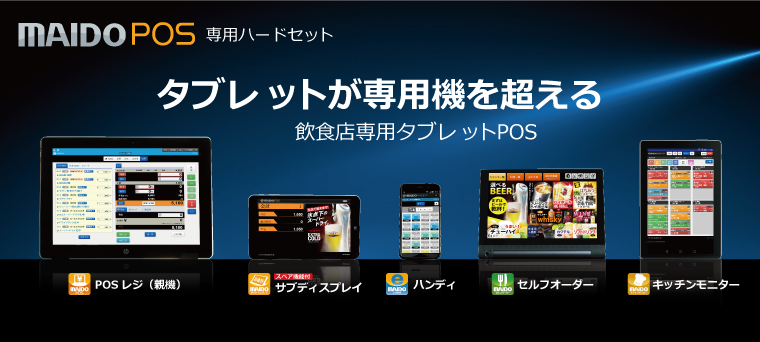 What "MAIDO POS" can do



payment methods available in MAIDOPOS
You can use the Credit Card Payment, electronic money, and QR code payment provided by SB Payment Service as the cashless payment "MAIDO PAY" exclusively for "MAIDO POS" according to the business of the business merchants.

By introducing "MAIDO PAY", the amount entered in "MAIDO POS" is automatically linked to the payment terminal of "MAIDO PAY" *, so store employees can make mistakes in cash register operations and bear the burden of accounting work. You can reduce the amount and make speedy payments.

Click here for details ⇒ (https://www.maido-system.net/applications/pay)

* Credit Card Payment can be automatically linked to the payment terminal. In the case of Electronic money, it is necessary to manually enter the payment amount in the payment terminal. In addition, QR code payment will be completed on the "MAIDO POS" side.