Leave all the troublesome payment work to us!
"NP postpaid(BtoB)" that takes over the entire invoice payment on your behalf
"NP postpaid(BtoB) Kakebarai" operated by Net Protections is a service that takes care of everything related to invoice payment. It is a business-to-business payment service with a proven track record that is used by all companies, all industries and sales forms.

We handle everything from credit for new business partners to invoice issuance, payment management, reminders for unpaid amounts, and guarantees for the risk of collecting unpaid amounts.

By changing the payment business to "NP postpaid(BtoB)" (NP Kakebarai), the burden on the payment business, which used to consume enormous resources, will be eliminated, and it will be possible to focus on the original business.
For example, if sales are also responsible for issuing invoices and collecting payments, more time will be devoted to sales operations that are directly linked to achieving goals, leading to corporate growth.
In addition, since it is possible to reduce or reduce the number of personnel involved in payment operations, it is possible to concentrate human resources on the operations that should be focused on, which will lead to medium- to long-term business expansion.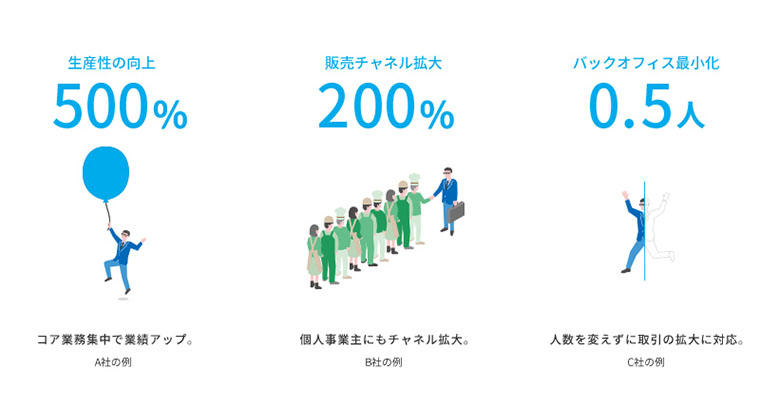 Especially for companies with hundreds of billing destinations, you should be able to realize the benefits of "NP postpaid(BtoB)" (NP Kakebarai). It is also a useful service for venture companies that do not have specialized personnel such as accounting and general affairs.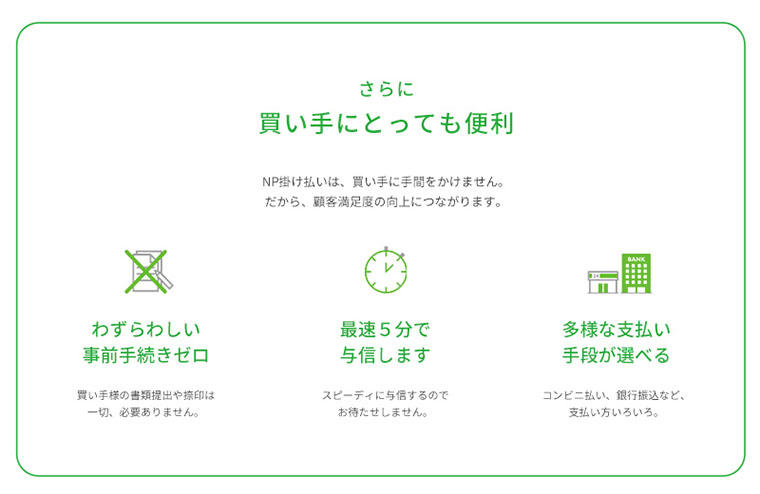 NP postpaid(BtoB), it will be possible to trade with all business partners by invoice payment, and it will be possible to meet the wishes of corporate customers who have high invoice payment needs. NP postpaid(BtoB) does not require the submission of documents or seals, existing customers can smoothly transition to invoice payment transactions. Since it will be possible to ship without waiting for payment, delivery speed will be improved and complaints and troubles will be eliminated.