For the SAQ AOC service, QSA, a PCI SSC certified auditor of ICMS, conducts an on-site audit of the merchants 's SAQ (self-inquiry), and a certificate of compliance (SAQ AOC) and our audit certification mark are displayed. It is a service to issue.

ICMS, which is a QSAS, conducts annual visit audits of Internet merchants that do not hold cardholder data to check the compliance status of PCI DSS.
Normally, merchants with 6 million or less transactions per year will prove compliance by self-inquiry, but in this program, compliance will be proved by a third party.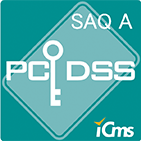 Compliant Internet merchants will be able to post the certification mark on their website. This proves the security of handling credit card data to users and allows them to shop and use services with peace of mind.
The corresponding SAQ type is entered in the upper right corner of the mark. (Image is for SAQ A)