What is Tap & Order @ Takeout?
Tap & Order @ Takeout is for restaurants that have optimized the usability of the eat-in smartphone order system "Tap & Order" so that it can be ordered from outside the store without stress, and it is possible to make advance payments with credit cards and PayPay. It will be a smartphone order system.


Tap & Order @ Takeout Strengths
Since this service is developed based on the eat-in smartphone order system "Tap & Order" that can be easily introduced by approaching both fixed layout and free layout, it is possible to order using a smartphone. We have realized "simple operability" and "user interface" with reduced barriers. Therefore, it can be easily used by customers at first glance, regardless of "familiarity with the product / customer's age".
The waiting time and pick-up time can be set in detail for receiving products, making it a highly convenient system for both store users and stores.

In addition, by linking with the cloud POS cash register Smaregi *, transaction data can be centrally managed, and sales data can be easily managed / analyzed.
* A separate contract for Smaregi Waiter is required.


About Tap & Order @ Takeout
[Customer order flow]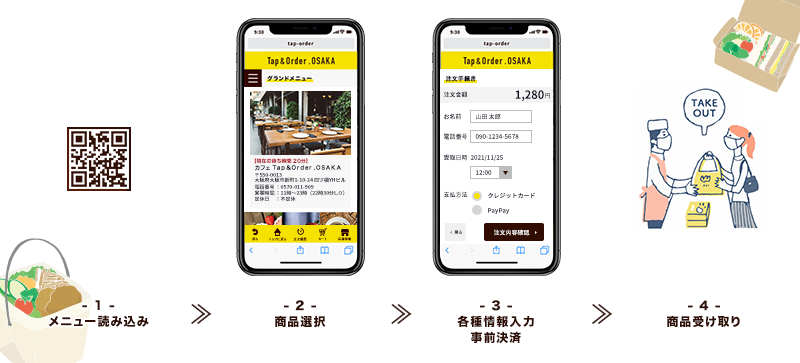 1. Display the take-out menu from the QR code or URL.
2. From the takeout menu, select a product and add it to the cart.
3. Complete the pre-payment with your credit card or PayPay.
4. Go to pick up the item at the set pick-up time.

[Flow of order acceptance for stores]

1. Set the takeout pick-up time.
2. When an order is placed, the printer will print the order slip.
3. Prepare the product according to the delivery time.
4. After confirming the voucher number, we will deliver the product.



About payment
Credit cards and PayPay can be used as payment methods for this service.
In addition, by achieving the industry's lowest level * as a mobile order settlement fee, it can be used at individual stores and small stores with less burden.
* As of November 2021, according to our research