By adding just one line of JavaScript tag to the Japanese EC site, overseas sales to 125 countries around the world are realized!
"WorldShopping BIZ" is the simplest cross-border e-commerce support service currently introduced by about 400 shops from major fashion brands to small and medium-sized local sites.
We develop and provide multilingual support, overseas payment, and overseas delivery as a comprehensive cross-border EC compatible service for all businesses that want to start overseas sales.


WorldShopping BIZ Checkout Key Features
[Multilingual support] ・ ・ ・ "Multilingual navigation" optimized for overseas users by inserting a single line of JavaScript tag into the website to identify the overseas IP address and browser language. "Form that does not require kana input" , Etc. will be displayed, and orders will be accepted in the World Shopping cart.

[Overseas payment] ... Supports various payment methods such as major credit cards, Paypal and UnionPay card Alipay.

[Overseas delivery] ... World Shopping will create invoices and arrange international mail.

[Others] ... Customer support is also provided by World Shopping (Zig-Zag).


Service flow (image from order reception to overseas delivery)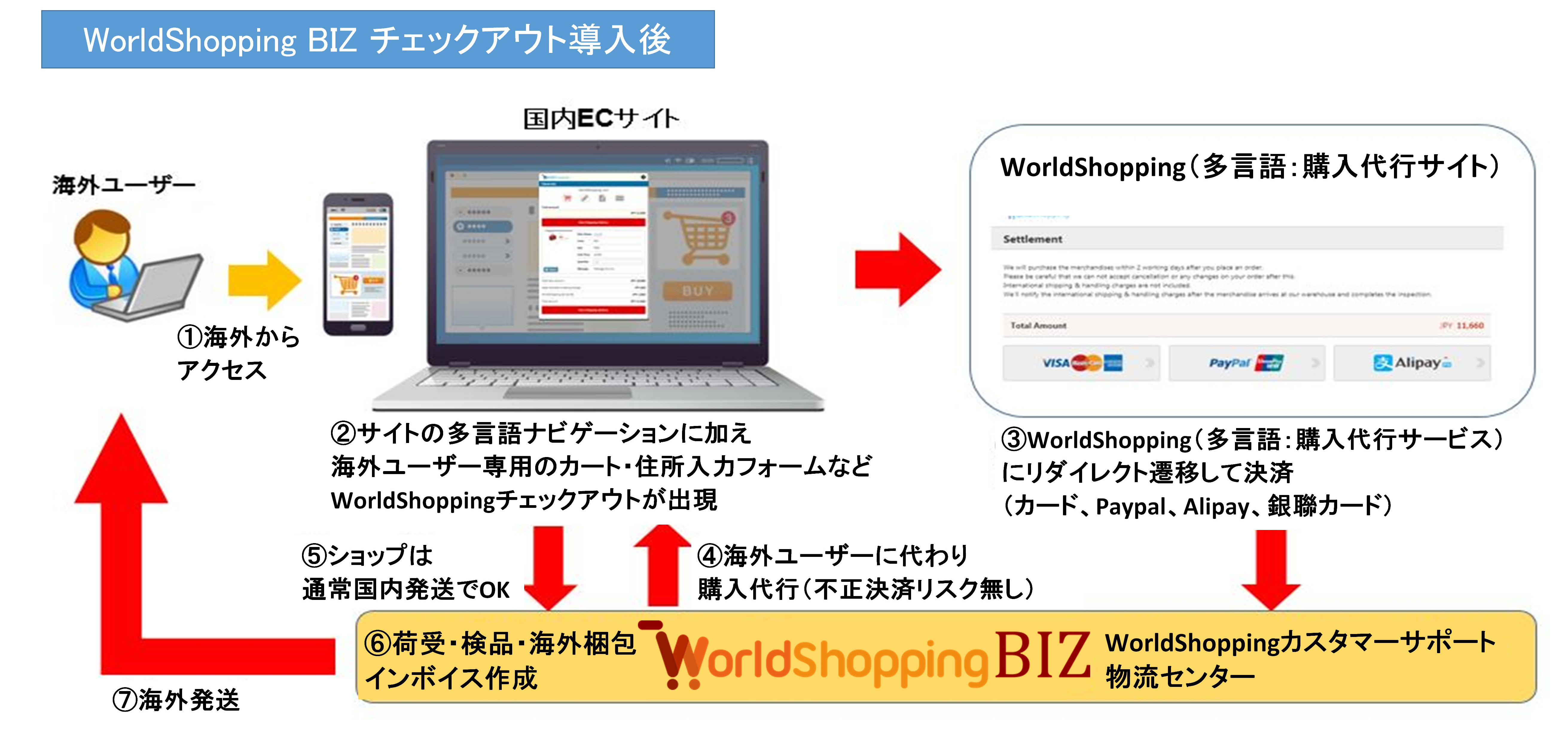 In-house EC site can be used overseas in as little as one day! easy! cheap!
All you have to do is add a line of JavaScript tags to your e-commerce site.
With just that, we will be able to sell overseas to 125 countries around the world.
The introduction cost is an initial cost of 30,000 yen (excluding tax), a monthly cost of 5,000 yen (excluding tax), and no sales commission.

View service overview (https://youtu.be/riMdlTVLx04)

See user interface description (https://youtu.be/3MGkhiLxX4U)