SB Payment Service and Global Mobility Service,
Automatically link with car loan repayments at convenience stores
Successful verification of engine remote start control release system
January 25, 2023
SB Payment Service Corp.
Global Mobility Service Co., Ltd.
SB Payment Service Corp., Ltd. (Headquarters: Minato-ku, Tokyo; President and CEO: Jun Shimba; hereinafter "SBPS") and Global Mobility Service Co., Ltd. (Headquarters: Minato-ku, Tokyo; President and CEO: Tokushi Nakashima; (hereafter referred to as "GMS") is pleased to announce that it has successfully verified a remote engine start control release system that automatically links with car loan repayments at convenience stores. In this verification, if the driver delays the payment of the car loan and the start of the engine is controlled remotely, by paying the bill at the cash register of the convenience store, the control can be released immediately and the driving can be resumed. I have confirmed that it is possible. In collaboration with SBPS, GMS aims to start full-scale market deployment of new services based on this verification within 2023.
In addition, GMS is promoting cooperation with a wide range of payment systems overseas, including convenience stores and electronic payments, and the engine's remote activation control release system.In the Philippines, we are already working with about 85% of the local payment systems increase. This is the first time for GMS to verify in Japan.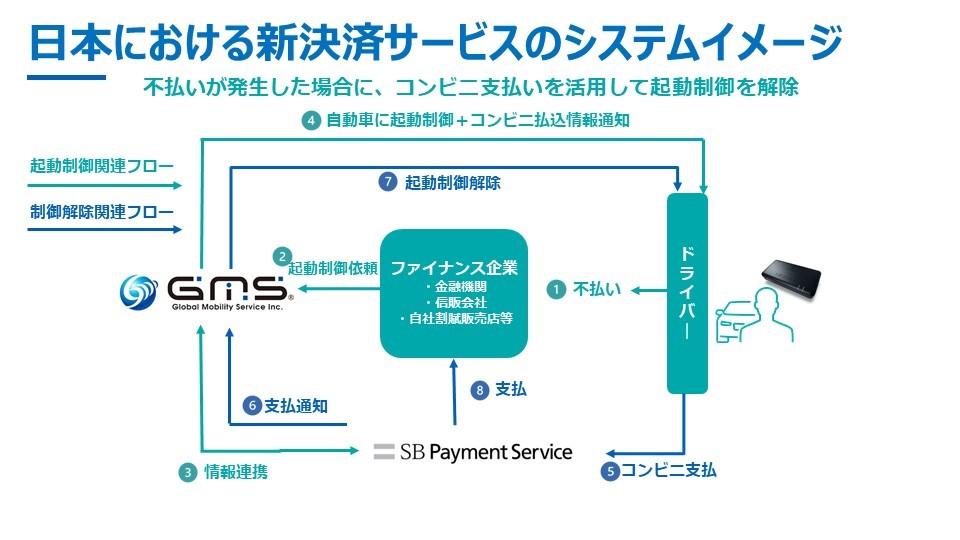 Overview of this verification
[Verification details]
When the driver pays the bill at the convenience store, the payment on GMS's mobility platform is completed through SBPS's Online Payment Service, and verification is performed to automatically release the engine start control. This was achieved by linking SBPS's Online Payment Service and GMS's mobility platform with an API.
[Verification period]
June 2nd to October 4th, 2022
【result】
About 30 seconds after the driver paid the bill at the convenience store register, the car's remote engine start control was automatically deactivated.
Company Profile
SB Payment Service Corp.
As a PSP, SBPS provides business operators with more than 40 brands of payment methods that can be used in online shops. We have licenses for international credit card brands such as Visa, Mastercard, and UnionPay, and we not only act as a PSP, but also provide vetting and management operations, settlement services, and fraud detection services as an acquirer. We are a one-stop shop. "AI fraud detection *1", which was originally developed by utilizing the payment data and knowledge of payments held by SBPS, can be used easily and at a low price starting from 0 yen, contributing to the early detection of fraudulent transactions.
| | |
| --- | --- |
| company name | SB Payment Service Corp. |
| Representative | Jun Shinba, President and CEO |
| Location | 1-7-1 Kaigan, Minato-ku, Tokyo Tokyo Portcity Takeshiba Office Tower |
| Established | October 1, 2004 |
| Business content | Payment service, collection agency and corporate calculation office work, acquiring (card merchant business) business, issuing (card issuing business) business |
| URL | https://www.sbpayment.jp/ |
Global Mobility Service Co., Ltd.
GMS is a financially inclusive FinTech global start-up company from Japan that creates credit for approximately 1.7 billion poor and low-income people around the world with the vision of "creating a system where people who work diligently are evaluated correctly." am. By analyzing vehicle data (driving status, speed, etc.) collected by the IoT device "MCCS *2" equipped with remote control technology for automobiles and financial data (payment status, etc.) obtained in cooperation with financial institutions, By visualizing the creditworthiness of drivers, we are creating opportunities to use financial services such as loans and leasing for those who could not pass the conventional credit screening. GMS' social problem-solving business model, which creates employment opportunities for low-income people in Japan and ASEAN countries (Philippines/Cambodia/Indonesia), is a rare business ecosystem that directly contributes to the achievement of SDGs. It is highly rated as In Japan, where the relative poverty rate is the second worst in the G7 *3, GMS has partnered with 12 financial institutions and finance companies so far to help those who did not pass the credit screening of conventional loans and leases. We offer a vehicle delivery service. By visualizing and analyzing the data of service users who acquire vehicles and work diligently, and using AI to convert the information into value, we provide financing that meets the needs of users and a mechanism that allows users to live the rich lives they desire. is creating

For an overview of GMS's business, please refer to the Keidanren Society 5.0 video below.
https://youtu.be/S9fXklbwYEY

company name
Global Mobility Service Co., Ltd.
Representative
Representative Director, President and CEO Tokushi Nakashima
Location
東京都港区芝大門1丁目12番16号 住友芝大門ビル2号館 4階
Established
November 25, 2013
Business content
Provision of mobility service platform
Secondary utilization service for big data stored on the cloud
*1 Click here for details on "AI fraud detection". https://www.sbpayment.jp/solution/security/ai_fraud_detection/
*2 An abbreviation for Mobility-Cloud Connecting System, an IoT device developed independently by GMS. In addition to identifying the location information of the vehicle in real time, if the loan repayment is delinquent, the engine can be remotely controlled to prevent it from being started when the driver is in a safe state, and after the repayment is completed, the engine can be started again. This encourages drivers to plan repayments.
*3 Exhibition: General Incorporated Association Grameen Japan
Inquiries about SBPS Online Payment Service
SB Payment Service Corp.
Inquiries about the remote engine start control release system
Global Mobility Service Co., Ltd. Contact: Nishiyama
Inquiries from the media regarding this matter
Public Relations Officer SB Payment Service Corp.