The "Zen Cart Pro" series is based on "Zen Cart", an online shop construction system that supports multiple languages and currencies, which is one of the most famous open source EC systems in the world. It is a platform for building an online shop that packages various customization functions necessary for full-scale online shop operation in Japan.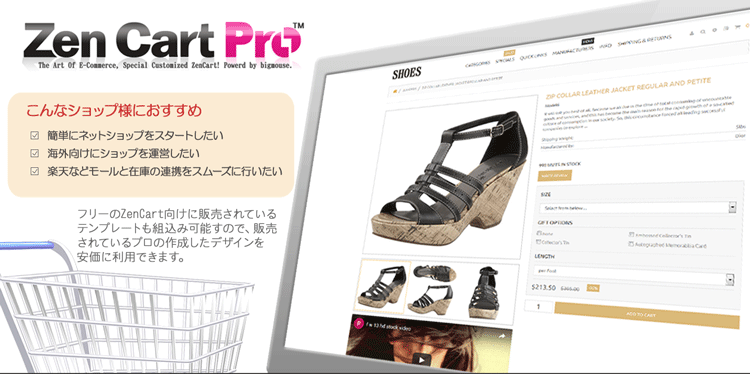 "Zen Cart Pro" is a system that can comprehensively manage not only the cart function but also "product management", "customer management" and "order management". In addition to being equipped with download sales options as standard equipment, high-performance product management that allows you to set detailed combinations of option prices that can be calculated automatically, for example, when the selling price fluctuates depending on the block copy price or the number of characters to be printed when selling original T-shirts. Functions are also available.

In "Zen Cart Pro-R", the same format as Rakuten Ichiba can be used when linking product data with CSV, so merchants with multiple stores such as malls can use it for inventory linking. Operational troubles can be greatly reduced.
Furthermore, by adding various paid and free add-ons provided, you can expand the functions required for the EC shop, and you can also customize the original to realize the desired EC shop opening.

It's easy to use just by installing and basic settings, and there are plenty of paid and free design templates, so you can build an EC site with a beautiful design like a professional at a low price.
Payment service connection method
You can choose from two connection methods, "Link Type" and "API type" provided by SB Payment Service, according to your merchants.
■ Link Type
This is a type that transitions to the payment screen provided by SB Payment Service and performs payment procedures.
(Corresponding payment methods)
Credit Card Payment
Web CVS Payment, Pay-easy
Mobile Carrier Billings
Wallet payment
Payment for overseas, etc.
■ API type
It is a type that completes the payment procedure in the EC shop without changing the screen.
(Corresponding payment methods)
Credit Card Payment
Web CVS Payment, Pay-easy, etc.
* You can select the payment methods you want to install in "Module Settings" of Zen Cart Pro. Add-ons for payment linkage of each version of "Zen Cart" (v1.3.0-1.5.6) are also available from the Big Mouse website.