What is Recruit Kantan Payment?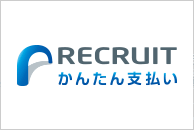 Recruit Kantan Payment is a payment methods that allows you to easily make payments using your registered member information by entering your Recruit ID and password. If you choose Recruit Kantan Payment when making a payment, you will be able to make a smooth payment without having to enter a long number like a credit card.
Features
easy
You can easily settle with your Recruit ID and password.
relief
Personal information does not pass to the merchants site, and we provide "safety".
convenience
Earn Ponta points with your purchase.
Overwhelming number of members of Japan's largest information site
Customers who use Recruit Kantan Payment are members who use one of the largest information sites in Japan provided by Recruit. In addition, Recruit has media for all generations, so we can expect to send customers.
Functions provided
Connection methods

Link type

API type

○
○ 

※

Billing methods

Pay-as-you-go

Recurring (simple)

Recurring (fixed / metered)

○
○
○

Available websites
PC
Smartphone
Mobile phone
○
○
-
*Confirming sales, payment notifications, cancellations, refunds, and other post-purchase processing can be used with the API type.
Implementation method
For the procedure from application to start of use, please see About introduction.
We will estimate the usage fee (fee, etc.) after asking for details.