What is Alipay+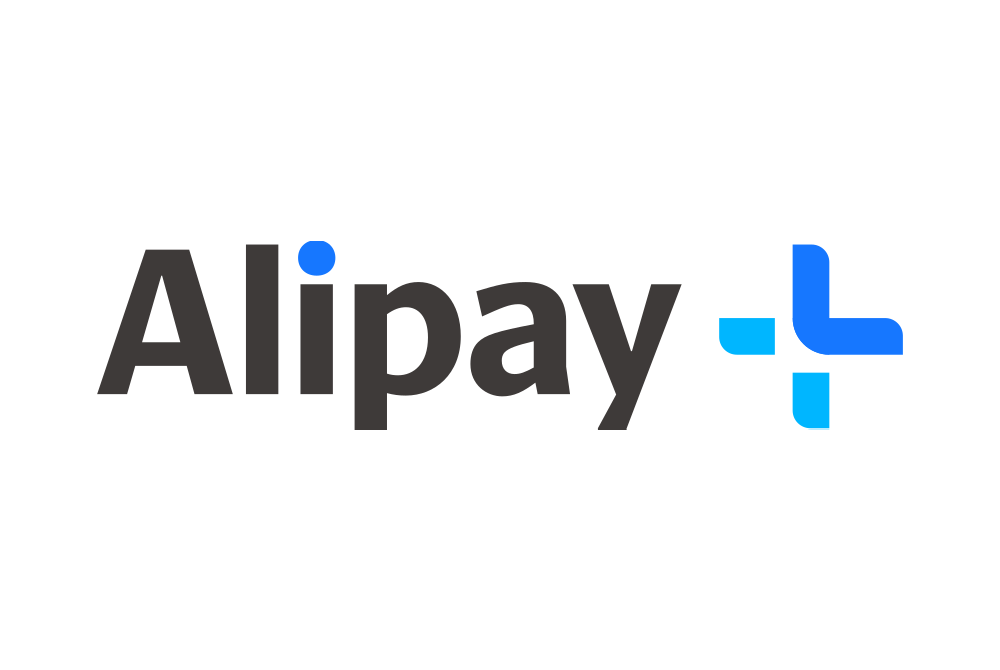 Alipay+ is one of the most popular multi-payment methods in Southeast Asia.
Not only Chinese users who use Alipay, but also users who use AlipayHK (Hong Kong) and KAKAOPAY (South Korea) can be covered.
You can easily introduce this payment method, which is used by more than 1 billion people online and offline (as of July 2023), while you are in Japan.
Features
By simply introducing Alipay+, it is possible to support sub-brands used in Southeast Asia.
Customers can use Alipay+ simply by downloading the accounts of each sub-brand that supports Alipay+ and registering as a member. We provide a one-stop service for Asian wallets to businesses.

Since it can be settled in Japanese Yen, there is no exchange risk
If it is a Japanese sales site, it is possible to sell in Japanese yen. The Alipay+ Core Operator will convert it to the Chinese currency, RMB. Customers using Alipay+ can purchase after confirming the price converted to RMB. In addition, there is no risk of exchange rate fluctuations as we will pay the sales proceeds to the business operator at the Japanese yen price at the time of sale.
We provide contracts, systems, and operations collectively.
With Alipay+, we take care of everything, such as system connection, language differences, and complicated overseas remittances, on behalf of business operators.
We provide support for attracting customers through Alipay+Rewards
For users of AlipayHK (Hong Kong), GCash (Philippines), Touch'n Go (Malaysia), TrueMoney (Thailand), 4 wallets (currently), it is possible to implement campaigns for users through the marketing platform Alipay + Rewards. .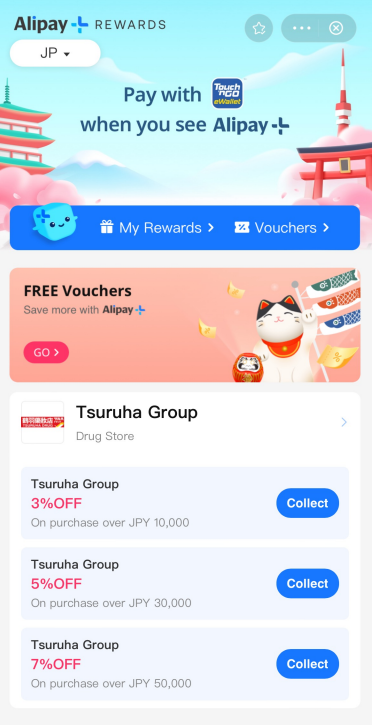 How Alipay+ works
We provide Alipay+ based on an agreement with the Alipay+ Core Operator.
Merchant can introduce Alipay+ just by applying to our company.
In addition, since the sales receipt from our company to the member store is Japanese yen, it is possible to introduce it without any exchange risk.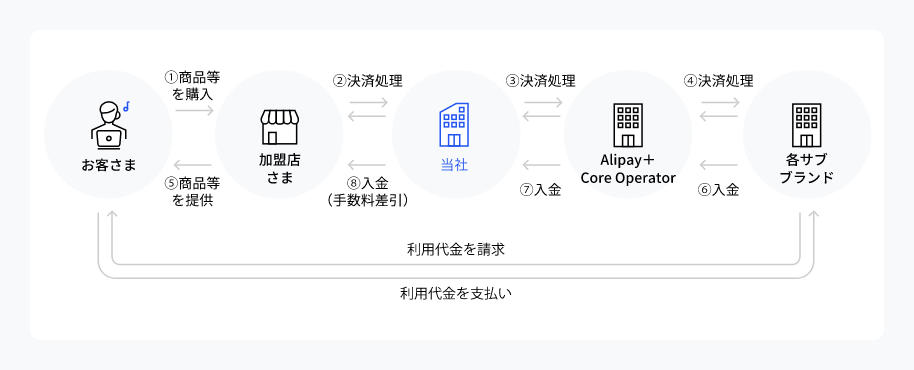 Functions provided
Alipay+ is provided by a link-type connection method, so it can be easily introduced with less system development man-hours for business operators.
Connection methods

Link type

API type

○
-

Billing methods

Pay-as-you-go

Recurring (simple)

Recurring (fixed / metered)

○
-
-

Available websites
PC
Smartphone
Mobile phone
○
○
-
Implementation method
The procedures from application to getting started are as follow.
For details on implementation procedures and costs, please see Implementation and fees​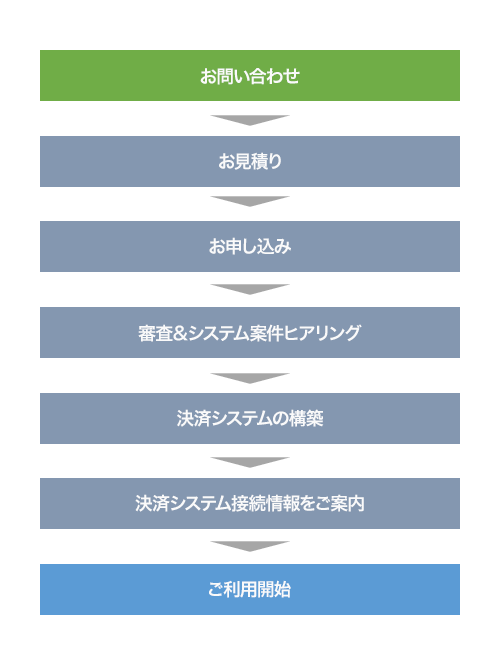 We will also provide you with a usage cost estimate (fee, etc.) upon gathering your details, so please submit an inquiry through the button below.
FAQ
Q.

Please tell me the deadline and the payment date of sales.

A.

As a general rule, it will be closed at the end of the month and paid at the end of the following month (payment fee will be offset) once a month. You can also increase the number of deposits by adding a paid option.
Q.

Is it possible to continue billing?

A.

Alipay+ does not support recurring billing.
Q.

How can I check sales?

A.

You can check it with the sales management tool provided by our company. In addition to sales confirmation, it can also be used as a sales management and business tool, as well as payment history search, aggregation, billing, payment matching management, form data creation, and so on.
Recommended Content by SB Payment Service
Introducing content related to Alipay+. Feel free to take a look at various payment methods such as credit card payment and carrier payment.