Credit Card Information Storage Service
What is Credit Card Information Storage Service?
Through our Credit Card Information Storage Service, we store the credit card information entered by your customers.
Customers can make repeat purchases or payments without entering their card information after having registered as a member, leading to improved purchase rates.
Since credit card information is stored with us on behalf of e-commerce merchants, it reduces the risk of card data leaks.
Features


◆ Recommended for these kind of e-commerce merchants!
Those providing services with recurring billing like subscriptions and monthly fees
Those wanting customers to register their card information when signing up as a member
Those who don't want to store credit card information in-house to reduce the risk of data leaks
Mechanism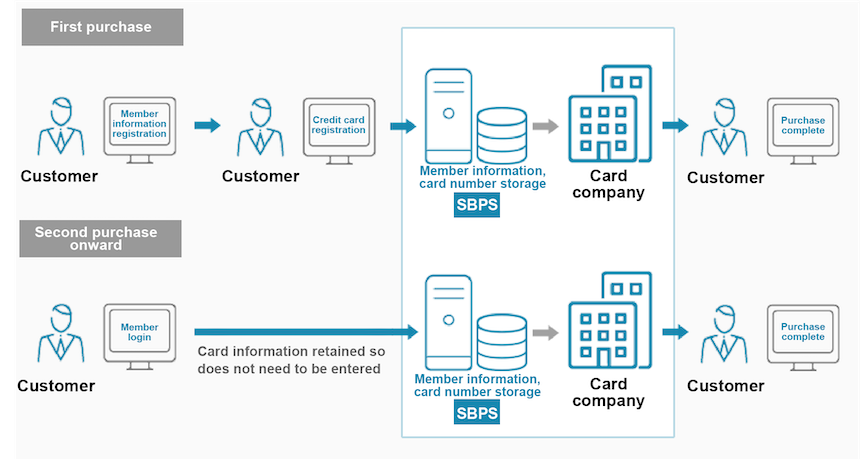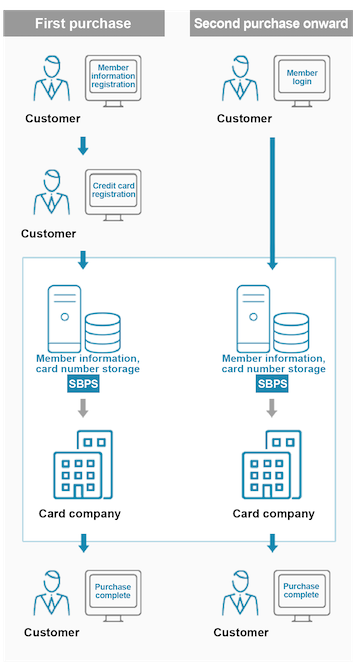 Security
We manage credit card information with the utmost security.
On September 1, 2005, we received both ISMS (Information Security Management Systems) certification, which includes personal information protection, and British Standards BS7799 certification. On October 2014, we completed our transition to the new JIS Q 27001: 2014 (ISO/ IEC 27001: 2013) standard.
We are also compliant with the international PCI DSS standard for the protection of credit card information, and in November 2008, were certified as a PrivacyMark Entity.
As a result, our services have been objectively recognized to be properly and safely operated and managed, and that our information security management systems are advanced and meet international standards.
We offer reliable processing with a strict information management system, providing peace of mind with a full range of security services based on our track record of managing payment systems and payment information for the SoftBank Group.