"Pay Cart Plus" is a CMS-equipped Link Type cart system that allows you to easily introduce a cart system and payment function simply by installing a link from an existing product page. Since it also supports subscription, content management, and affiliate system linkage, you can build an EC site that meets the needs of the business operator.
Simple! Link Type cart system
You can easily incorporate the cart system into your existing website. Simply obtain the URL of the registered product and paste it on the page, and you will be able to use the cart system.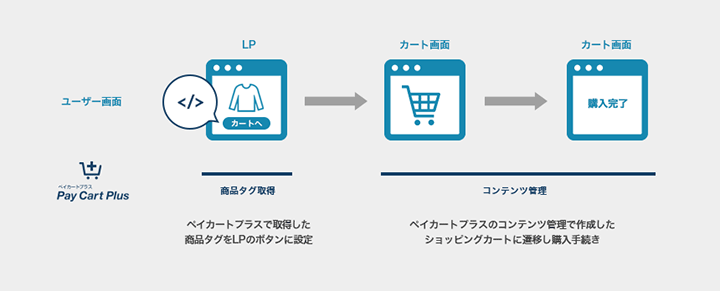 Also supports subscription and distribution
In addition to regular products, the products that can be handled with "Pay Cart Plus" are also compatible with regular purchases and distribution meetings. Furthermore, by introducing "Leafworks Pay" exclusively for "Pay Cart Plus", it is possible to introduce payment methods and Billing methods that meet the needs of merchants.
* "Leafworks Pay" is linked with the Online Payment Service of SB Payment Service.

Convenient content management and flexible design
You can manage the contents (web page) on the management screen. Since it implements the "CMS function" that allows you to flexibly design web pages, you can operate the cart system with a design that matches existing websites. In addition, you can create an "LP (landing page) integrated cart" that can be purchased with just two clicks, with a highly flexible design.
In addition, since there is no limit to the number of product registration points or the number of contents (pages) created, cart operation can be realized without worrying about the upper limit.

Leave the affiliate function
It is possible to easily link with the affiliate system. When a product is purchased, you can notify the affiliate system of the results (kickback notification), so it is ideal for businesses that want to conduct a product sales business while operating advertisements.