The electronic version of "Asahi Shimbun Digital" is a full-scale news service that delivers real-time news and content comparable to the paper Asahi Shimbun with full of digital functions.

If you register one ID, you can view it on many information devices such as PCs, iPads, iPhones (iPod touch), and Android devices.
We have proposed a continuous billing model that uses account update so that a large amount of monthly subscription fee data can be processed efficiently.
Services provided
Payment methods
Customer profile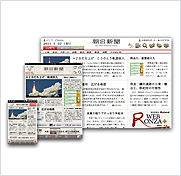 Recommended Content by SB Payment Service
Many merchants are considering introducing Credit Card Payment, and there is a wide range of information that we would like to introduce. From among them, we judge the current affairs and importance, and introduce some of them. Please have a look.