SB Payment Service's Online Payment Service
Compatible with au PAY (online payment)

-A payment methods that can approach all smartphone users and the payment amount and number of users continue to increase-
February 22, 2022
SB Payment Service Corp.
SB Payment Service Corp. ("SBPS"), a subsidiary of SoftBank Corp., will support au PAY (online payment) from March 1, 2022 in the Online Payment Service provided by SBPS. au PAY (online payment) can be used by non-au users by downloading the "au PAY app". By introducing au PAY (Internet payment), businesses can approach all smartphone users.

About au PAY (Internet payment)
au PAY is a smartphone payment service that has approximately 28.3 million members and can be used at 4.81 million point / payment member stores. You can pay online from your smartphone, PC or tablet from the au PAY balance charged in advance, and 0.5% Ponta points (200 yen / 1 point) will be returned for each payment. If you download the "au PAY app", you can use it even if you are not an au user, and the payment amount and number of users are increasing year by year.

▼ Usage image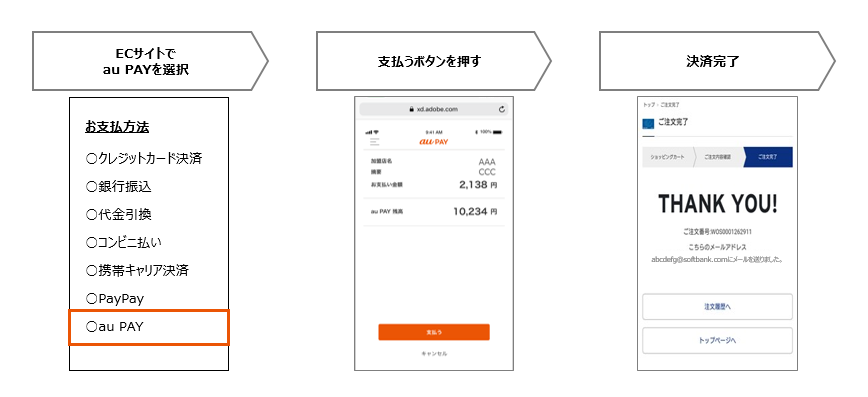 About the Online Payment Service provided by SBPS
As a PSP, SBPS provides businesses with more than 35 brands of payment methods available in their online shops. In addition, we have licenses for international credit card brands such as Visa, Mastercard, and UnionPay, and we are not limited to PSP, but as an acquirer, we are one-stop from the position of vetting, management work, and payment service provision. It is possible to do it with. Businesses that have introduced SBPS's Online Payment Service can use the AI-based fraud detection service "AI fraud detection" for free, so they can detect fraudulent transactions at an early stage and use the payment service with peace of mind. receive.

SBPS will continue to provide highly convenient services that meet the needs of businesses.
-The company names, product / service names, and logos mentioned are trademarks or registered trademarks of each company.
・ The images shown are for illustrative purposes only. It may differ from the actual one.
Company Profile
SB Payment Service Corp.
| | |
| --- | --- |
| Representative | Jun Shinba, President and CEO |
| Location | 1-7-1 Kaigan, Minato-ku, Tokyo Tokyo Portcity Takeshiba Office Tower |
| Business content | Payment service, collection agency and corporate calculation office work, acquiring (card merchant business) business, issuing (card issuing business) business |
| URL | https://www.sbpayment.jp/ |
Inquiries about payment services
SB Payment Service Corp.
Inquiries from the media regarding this matter
Public Relations Officer SB Payment Service Corp.