Improving utility of SBPS and NFT
Linking "Siluru™" with Online Payment Service

~ BBF upgrades the shopping experience and advocates "Brand x Customer Experience 3.0" ~
April 10, 2023
SB Payment Service Corp.
SB Payment Service Corp. (Minato-ku, Tokyo; President and CEO Jun Shimba; hereinafter referred to as "SBPS"), a subsidiary of SoftBank Corp. Corp., is a subsidiary of HITO-Communications Holdings Inc., BBF Co., Ltd. Chiyoda-ku, Tokyo, CEO Jun Tamura, hereinafter referred to as "BBF"), a gateway service "Siluru™ ( Siluru)" and Online Payment Service provided by SBPS will be linked to enable Credit Card Payment with "Siluru™" from April 10, 2023.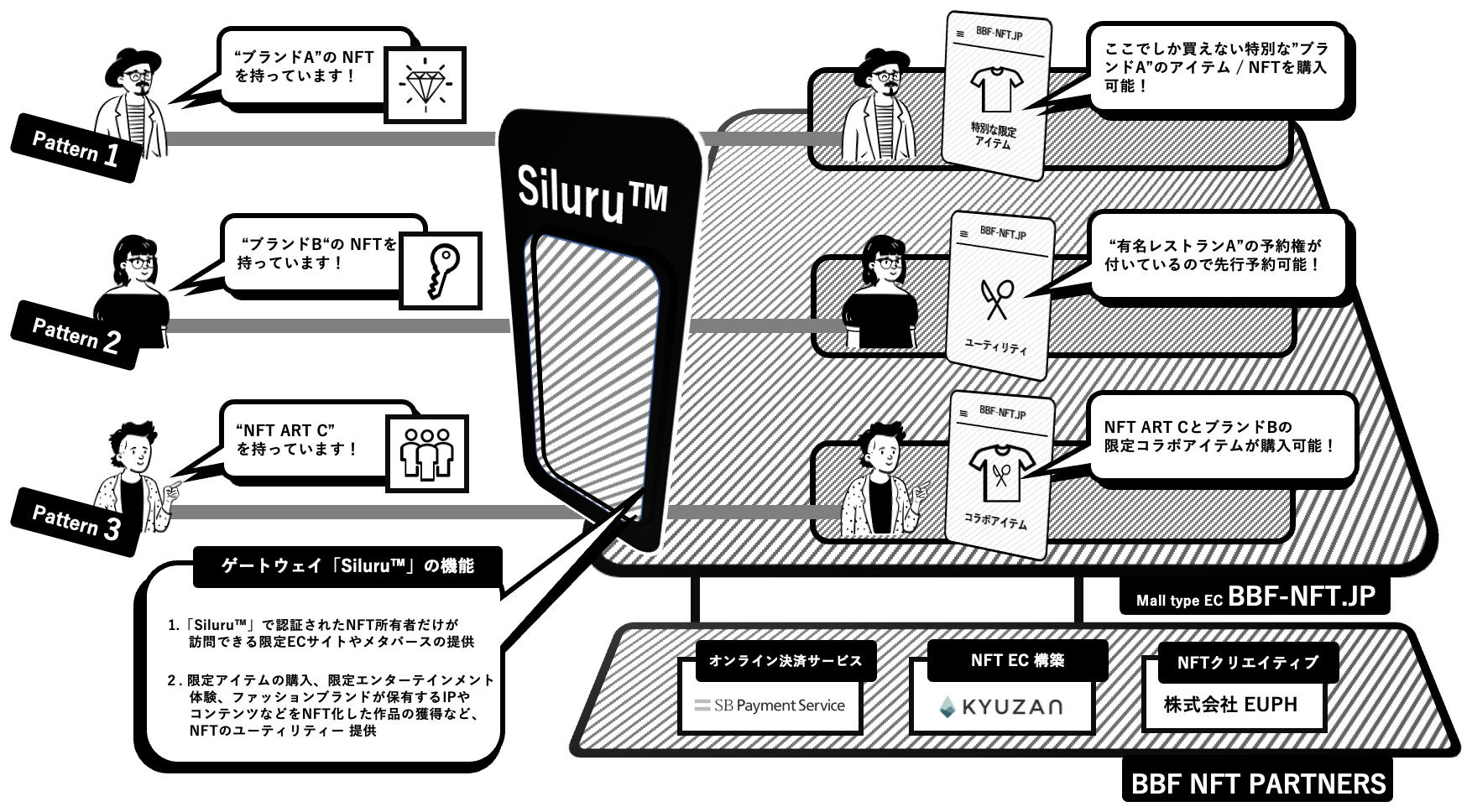 About Siluru™
With the service concept of "brand x customer experience 3.0", limited items provided by fashion brands through limited EC sites and unique metaverse * 2 spaces that can only be visited by NFT owners authenticated by the gateway "Siluru™". It is a service that improves the utility of NFT * 3, such as purchasing , experiencing limited entertainment, and acquiring NFT works such as IP and content owned by fashion brands. In addition, in order to realize this service concept, SBPS, which handles Online Payment Service, Kyuzan Co., Ltd. (hereinafter "Kyuzan"), which provides NFT issuance management services, and EUPH Co., Ltd., which operates NFT creative boutique business (hereinafter "EUPH"). We are collaborating with the service.
payment methods that can be used with "Siluru™"
Credit Card Payment
Visa、Mastercard、JCB、American Express、Diners Club
International
■ Regarding services and functions to be provided
1. Responding to utilities for the NFT owner community


It is possible to operate and manage utilities for NFT owners, purchase specific products, etc.

2. NFT sales on the EC site provided by BBF, addition and update of the function to check the user's NFT possession


By system linkage between the EC management system provided by BBF and the NFT generation and management service "Mint" provided by Kyuzan, fashion brands can sell NFT content at the same time as selling conventional apparel products.

3. Providing a smooth purchasing experience


By linking with Online Payment Service provided by SBPS, it is possible to purchase NFT content by Credit Card Payment.

4. Providing NFT development support and Metaverse development support as ancillary services


By collaborating with EUPH, a BBF partner company, for NFT content production and IP collaboration, it is possible to provide a one-stop service from planning to content development.
Comment from Atsushi Tamura, CEO of BBF Co., Ltd.
For the spread of NFT, casual users and highly convenient payment methods are essential. By adopting SBPS's Online Payment Service for "Siluru™", we believe that more people will be able to easily purchase NFTs. In proportion to the spread of NFTs, compliance with industry regulations and restrictions is also essential. We expect smooth and safe NFT transactions in cooperation with SBPS. SBPS has the functions, services, and quality necessary to drive the domestic and overseas NFT market, so I hope we can contribute to the development of the market together.
About SBPS's Online Payment Service
As a PSP agency, SBPS provides business operators with more than 40 brands of payment methods that can be used in online shops. We have licenses for international credit card brands such as Visa, Mastercard, and UnionPay, and we not only act as vetting and management operations, settlement services, and fraud detection services as PSP We are a one-stop shop. "AI fraud detection *4", which was originally developed by utilizing SBPS's payment data and knowledge of payments, can be used easily from 0 yen and contributes to the early detection of fraudulent transactions.
SBPS will continue to provide highly convenient services that meet the needs of businesses.
*1 Abbreviation for "Non-Fungible Token", which refers to a highly unique digital asset created using blockchain technology.
*2 A coined word that combines meta (transcendent) and universe (universe). It means another world built online, and refers to the virtual space created by the development of technology.
*3 Refers to the added value, benefits, functions, and rights provided to the owner by a specific NFT (and its issuer).
*4 For details on "AI fraud detection", please see here. https://www.sbpayment.jp/solution/security/ai_fraud_detection/
-Company names and product / service names mentioned in this press release are registered trademarks or trademarks of their respective companies.
Company Profile
SB Payment Service Corp.
| | |
| --- | --- |
| Representative | Jun Shinba, President and CEO |
| Location | 1-7-1 Kaigan, Minato-ku, Tokyo Tokyo Port City Takeshiba Office Tower |
| Established | October 1, 2004 |
| Business content | Payment service, collection agency and corporate calculation office work, acquiring (card merchant business) business, issuing (card issuing business) business |
| URL | https://www.sbpayment.jp/ |
Inquiries about Online Payment Service
SB Payment Service Corp.
Inquiries about "Siluru™"
BBF Co., Ltd. Egashira and Hiroyama
Inquiries from the media regarding this matter
Public Relations Officer SB Payment Service Corp.