About EDISONE
EDISONE is a cloud-based reservation system that allows even those who are worried about PC operation to easily create a Web reservation form. From the day you open an account, you can accept reservations for your store on the Web. We have 7 types of reservation types (forms) to accommodate various industries, and we also have 6 levels of rate plans to accommodate stores of any size.
Using a PC, smartphone, or tablet, the functions required for online reservations at stores, such as homepage creation, customer management, shift management, and Credit Card Payment, are enriched, and in preparation for inbound demand from overseas travelers, It is equipped with multilingual translation display, China UnionPay, and Alipay functions.
Features of EDISONE
POINT1
With abundant reservation types, you can use it regardless of the business scene!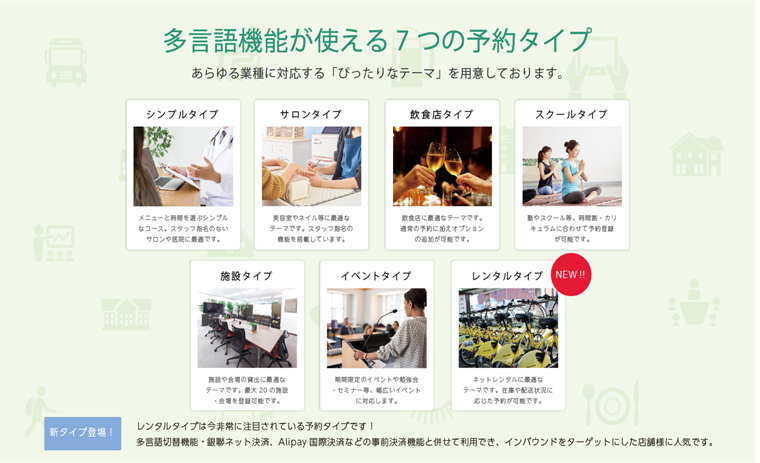 POINT2
With a variety of price plans, you can choose the size of the store you want to introduce.
You can choose the price according to the number of reservations, and you can plan up only during the busy season!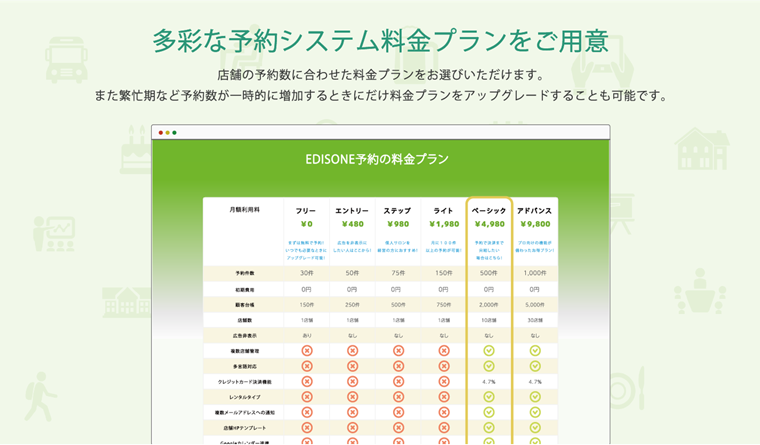 POINT3
Not only reservation reception and management, but also customer management, store visit memo, staff management, shift management, settlement
Multi-functional reservation system such as sales management, multilingual switching function, automatic generation function of linked parts to existing HP!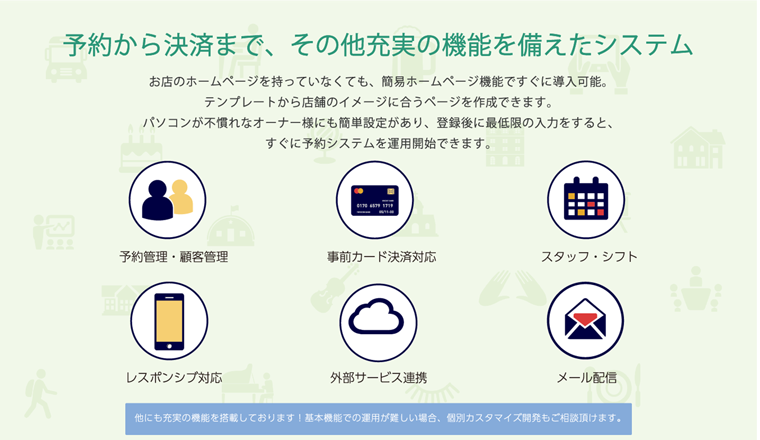 Multilingual translation function and pre-payment function streamline front desk operations!
Not only can backyard operations such as reservation management, customer management, and shift management operations be completed with a single system, but the multilingual function can reduce the burden of foreign language support for front desk operations staff.
In addition, the advance reservation settlement function can reduce the cancellation rate on the day and collect the cancellation fee.
Stores with existing homepages issue "reservation buttons" and "iframe embedded tags" on the management page, so you can easily set up a reservation page. Of course, it can also be used by stores that do not have a homepage, and the specifications are such that a simple store homepage with a store description and menu introduction before proceeding to the reservation page is automatically generated just by selecting a template.

I want to introduce a web reservation page from today! When you think about it, the support team will support you until you can start it easily and start full-scale operation.

Please try.
Reservation system EDISONE that can be started for free